7 gadgets you must have for every trip
"Travelling – it leaves you speechless, then turns you into a storyteller." – Ibn Battuta. Smart tools have become an essential part of who we are. They enhance our lives and empower us to become better at what we do. So it goes without saying that the right gadgets will help us enjoy our travels, […]
Smartphones, laptops and cameras are gadgets everyone carries while travelling. However, there are other accessories we tend not to count as essential. ET's Karan Bajaj provides a list of must haves.

1. Action Camera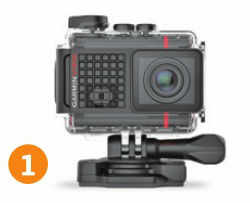 A DSLR gives you better photos, but not everyone wants to carry a bulky camera on vacation. This is where action cameras come to the rescue. There are multiple options to choose from. The GoPro (Rs 19,000 onwards), Gamin Virb 30 (Rs 34,000) or Enrg Epicam (Rs 8,000) are recommended.

Despite their compact size, these action cameras boast wide-angle lens, can record videos in full HD resolution and take great photos. There is a plethora of mounting accessories available too. Images and videos can be transferred to a computer or viewed on a phone.

2. Portable chargers

Battery life of smartphones and tablets continue to be a pain point. This is why portable chargers are now amongst the most bought accessories. For travelling we recommend the Xiaomi Mi 20,000mAh portable charger that weighs just 338 grams.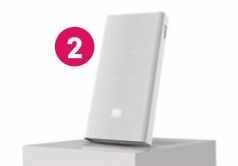 You get dual USB ports to charge two devices simultaneously and it also supports fast charging. The charges are capable of charging laptops via the USB Type-C cable. There are options also available from other brands. Opt for chargers with at least 15,000mAh capacity.

3. Bluetooth Speakers

Bluetooth speakers have shrunk over time and still manage to deliver fantastic output. If you want to listen to your favourite music while travelling, carry a Bluetooth speaker with you.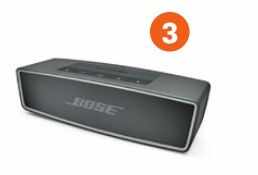 Bose has the excellent Soundlink Mini II (Rs 18,000) and Logitech has the UE Boom II (Rs 13,999) if you don't mind spending. If you do mind and still want a good audio experience, get the Mi Bluetooth speaker (Rs 1,999) or the Letv Bluetooth speaker (Rs 1,999).

If you want something rugged, the Boat Stone 600 speaker is water proof and shock proof. All these speakers have excellent battery life so you do not need to worry about recharging them.

4. Better Smartphone Photos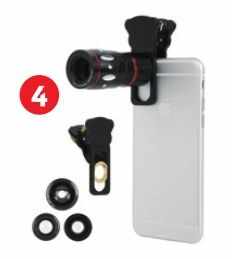 Smartphones are essential travel companions. With improvements in camera technology, your smartphone can take great images instantly and you can enhance your photos by using add-on lenses that are easily available.

You can get clip-on lenses that add macro, wide-angle or fish-eye modes to any phone camera. Other useful camera phone accessories include zoom lenses, selfie sticks, Gorillapod flexible tripod for mounting it anywhere and Bluetooth remote shutters.

5. Personal Hotspot Generator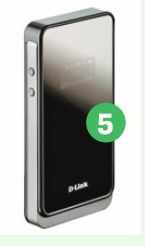 All your devices (smartphones, tablets, laptops), heavily depend on the Internet for full utilisation. However, it is not possible to find WiFi connection everywhere. To solve this issue, carry a personal hotspot generator that works with a SIM or an Ethernet port.

With this you can instantly create a personal WiFi network for your other devices. You just need to connect the Ethernet cable to the hotspot generator or enable the SIM data-you will be able to instantly access Internet on your other devices using your personal secure WiFi.

There are multiple devices available from Netgear, TP-Link, D-link and various other brands starting from Rs 1,200 onwards.

6. Wireless Streaming dongle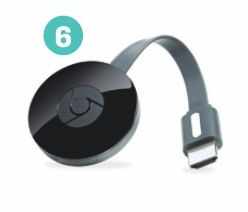 If you're headed to a country with a different native language, you might struggle to find content on TV. This is where a wireless media streaming dongle such as Google's ChromeCast is great.

You just need to plug it to the TV's HDMI port and then connect to the WiFi network (if you don't have free WiFi, you can use a portable hotspot). Once set up, these dongles can play media from the Internet or from your smartphonetablet wirelessly on the TV.

7. Power strip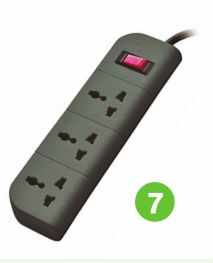 Most hotel rooms usually offer a maximum of two wall sockets for connecting your personal devices. Considering that most of us today carry multiple devices that need charging, two wall sockets can be limiting.

A simpler solution is to carry a compact power strip that gives you 3 or 4 sockets to simultaneously charge your devices. We recommend opting for power strips from known brands like Belkin, Anchor or Portronics.

Reference : https://tech.economictimes.indiatimes.com/news/technology/7-must-have-gadgets-for-your-travels/56727879